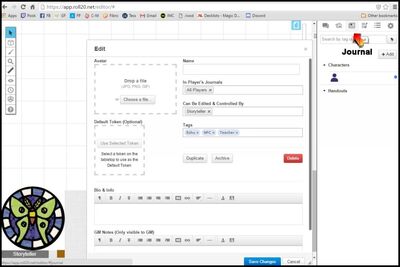 Creating Your Character
Edit
The Roll20 site is often intimidating to new players, especially if they are new to Changeling the Dreaming as well.  On free Roll20 accounts, the only way to manage character sheets is within the game table UI.  
click pink JOIN GAME button
find JOURNAL icon above chat (marked by arrow in picture on right)
clicking the button labeled + Add within the Journal tab to add a new character.
Tip: Adding new Characters using the right-click method places them directly into the right-clicked folder. Then simply click the character's name to open, edit, or add details.
Details about using the character sheet window  can be found on the Roll20 Wiki.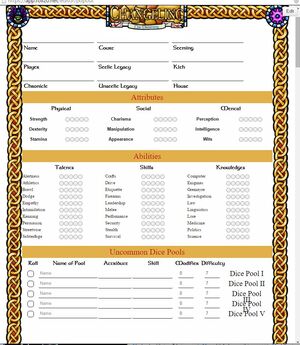 The Changeling Sheet Template Page 1
Edit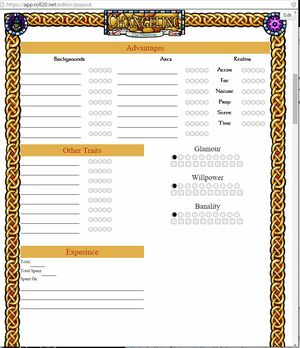 The Changeling Sheet Template Page 2
Edit
Backgrounds (5, extra dots cost 1 freebie points each)
Arts (3; extra dots cost 5 freebie points each)
Realms (5; extra dots cost 3 freebie points each)
Other Traits: secondary abilities, miscellaneous
Glamour (see Seeming )
Willpower (see Seeming )
Banality (see Seeming )
Experience (3-4 awarded per game session attended)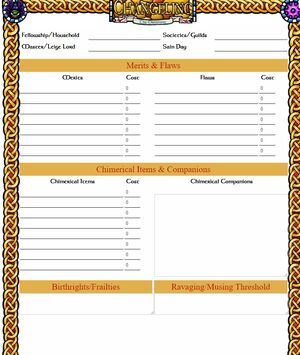 The Changeling Sheet Template Plate 3
Edit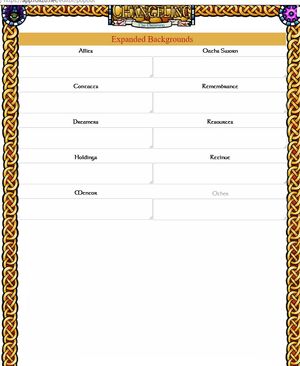 The Changeling Sheet Template Page 4
Edit
Available Allies
Available Contacts
Personalized Dreamers
Holdings Background In Rainbow Cities
Available Mentors
Oaths Sworn (or Held)
Personalized Remembrance
Personalized Resources
Personalized Retinue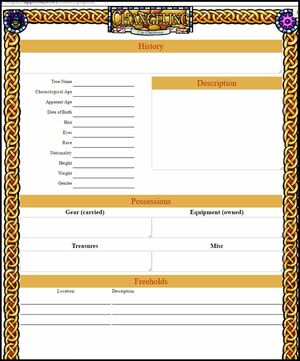 Character Sheet Template Page 5
Edit
Chronological Age: 
Apparent Age
Date of Birth
Hair
Eyes
Nationality: United States (native or naturalized)
Height
Weight
Gender
Decription: 3-4 sentences covering character's appearance, personality, quirks, etc.
Gear (carried):
Equipment (owned)
Personalized Treasures
Misc (anything else, temporary gear, etc.,)
Freeholds: favorites from the Haight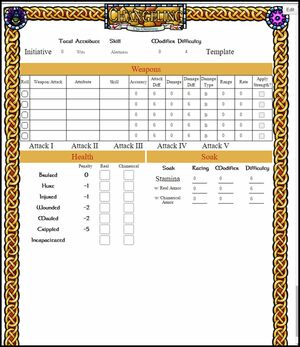 Character Sheet Template Page 6
Edit
Initiative
Weapons

Melee Weapons
Ranged Weapons
Firearms Chart

Health
Soak
Community content is available under
CC-BY-SA
unless otherwise noted.